Jon Nicholson: India
28 October - 24 December 2022 (extended til 28 January 2023)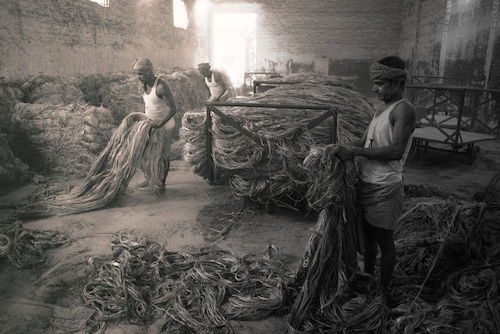 © Jon Nicholson
Jon Nicholson's professional photographic career spans 40 years. He has produced images of the highest quality in a wide range of genres including sports documentary, social documentary, portraits, natural landscapes, and street photography.
This exhibition at Aperture Gallery featured his series on India, which are truly special projects for the photographer.
It was Nicholson's childhood dream to go down the Ganges, a holy river that runs through North India to Bangladesh. In the mid-90s, he finally got an opportunity to realise his dream when he got a large commission that coincided with the 60th anniversary of the Independence of India. Unfortunately, this project fell through, but Nicholson managed eventually to obtain support from BBC to complete the work and document the great river from its source to estuary. The outcome was the book Ganges (BBC Books, 2007). Even after the publication of the book, Nicholson kept going back to the river and his trips to India have counted 50 over 25 years revisiting the people and places to tell deeper stories with his photographs.
For his first exhibition at Aperture Gallery, Nicholson selected 5 of his stories from India. Each story focuses on one place and its people, and documents the particular industry or labour people are engaged in. Despite the physical rigour of these labours and the extreme environments in which they are performed, Nicholson's photographs capture extraordinary beauty, often creating breathtaking images. Each project is realised as a result of a long-term research and multiple processes. This preparation is very important for Nicholson enabling him to get deep inside places, which normal people cannot easily access.
4 of Nicholson's photographic stories in the exhibition were shot in Kolkata, which forms the third-most populous metropolitan area in India. In this exhibition, stories about a fish pond, brick factory, jute factory, and wasteland will be presented. In each story, people working to earn a living in physically demanding environments are documented. Some of these images capture the raw and dynamic movements of the workers, while in others people almost blend into the majestic landscapes or dimly lit space. With the rapid changes taking place in this busy city, these industries and the way of living could disappear at any time. Nicholson's images would also serve as a precious record of people's lives in Kolkata in the decades to come.
The last and most striking story was shot in the holy city Varanasi, which is famous for its Hindu cremation ghats. Nicholson first obtained permission to photograph inside this ghat 25 years ago, and has kept going back since then. Again, the environment is extreme, with the heat, smell, and smoke. But the place is "so beautiful, not sad"(Nicholson) as many Hindu people desire to end their lives there believing that an endless cycle of suffering of souls finally breaks by being cremated in Varanasi.
Jon Nicholson
Jon Nicholson was born in 1961 in London. He started his photographic career by photographing his friend and formula one racer Damon Hill. Since then he has covered different kinds of sporting and news events for media such as The Sunday Times, The Observer, The Guardian, The Mail on Sunday, Paris Match, Stern, and The LA Times. In 1992 and 2012, Nicholson was appointed to an official photographer at the Barcelona and London Olympics. From 1998 to 2007, Nicholson joined the UN in Africa to visit different areas and documented war, food crisis, genocide, and the HIV/AIDS epidemic. He shot a series of pictures of the crisis in Darfur as digital composite's addressing the personal aspects of the conflict such as the feet that walked to freedom, an image that consisted of over fifty images of the soles of the women's feet that had walked to freedom. Other assignments include working with renowned titles and brands including The National Geographic, Conde Nast, Wrangler, Levi's, Nike, Adidas, Puma, Timberland, Patagonia, Tag Heuer, Toyota, Ferrari, Hilton Group, Nikon, and Leica Cameras. Nicholson has also published more than 15 books including Five Days of a Grand Prix (1999, Macmillan), Cowboys: A Vanishing World (2001, St Martins Press), Inside Ferrari (2006, Mitchell Beazley), Ganges (2007, BBC Books), and Seaside Polaroids (2013, Prestel). At present, he is working on a new two-year project on Speed to be published in 2024 with a global exhibition. Nicholson is currently based in West Sussex, England.
Event: An Evening with Jon Nicholson
6.30pm, Thursday 17 November 2022
This event has already finished. Thank you to those who attended.
Aperture Gallery is pleased to announce a special evening with the photographer Jon Nicholson to celebrate 40 years of his career. Jon will talk about his projects in India, the process of his work, and extraordinary stories from his experience as a documentary photographer. His talk will be packed with inspiring real-life stories, valuable tips, and technique for creating images that tell stories and realising a long-term project. The second half of the event will be a Q&A session, where the guests can directly ask Jon questions. This event will be ideal for all aspiring documentary photographers including students, journalists, and anyone who is interested in Jon's work or documentary photography. Wine, beer, and soft drinks will be served.
This is the first event with a photographer at Aperture Gallery. More events are being planned, where the guests can meet photographers and socialise with other photography lovers.
Print Sales
All of the photographs from the exhibition are available to purchase as individual prints or as framed. Each image is printed in a limited edition of 7, and each print is signed and numbered by the photographer. Please make an inquiry at [email protected] for further details. Some prints are also available to purchase online.